Is it just me or is anyone else in absolute awe with John and Sherry at Young House Love? We're plenty busy with our little blog here, and we even tag team most of our projects. But they've got a book coming out, just completed a huge photo shoot, publish more than one post a day, manually approve comments, take and edit a bazillion photos, have speaking engagements, not to mention write their life blog and do other gigs. Are you kidding me? We gotta give them props, we're blown away.

The News Break
Feeling like epic underachievers, we figure it's high time to get on those blog new year's resolutions on which we've been dragging our feet. First up is our promise of a link party with a focused theme:  Repurpose. Remodel. Reveal.
We hope you'll stop by to link up your room reveals, remodeling projects, crafts involving a repurposed or recycled item, furniture reveals, and mood boards. We really want to make this a home design inspiration spot where you can browse some great ideas and meet some talented bloggers focused on decorating, improving, and showing off.
The Skinny
We'll be hosting the RRR party the 1st and 3rd Fridays of the month, and then on the 2nd and 4th Fridays we'll announce our favorite projects from the week before. Hopefully that'll give everyone lots of time to create and post their projects, take a look at the link ups, and vote for their favorites, keeping the content nice and fresh each party. So mark your calendars for March 2, 2012 for our first party, and feel free to invite your friends.  We all know that big parties are more fun.
The Browsing
Second on the list is getting our blog a little more search-able, so we've re-categorized and re-tagged our posts so they'll be a bit easier to find. Once we get a few more projects under our belt, we'll create a dedicated page for our home tours and mood board-inspired projects including the master bedroom and peacock bathroom. Should make browsing our posts a bit more simple.

The Progress
And inspired by Kate at Centsational Girl, we've also made our site mobile friendly, so our fans visiting by handheld devices should see faster load times. It comes with an option to turn off the mobile feature if you'd prefer to see the original site right at the bottom. For anyone interested, we went with the WordPress Mobile Pack plugin and so far it's working great. Curious to see how your site will look on a mobile device? We found the Opera Mini Simulator to be a great tool to test out how your site comes across. It's a handy little program for those of us that don't have fancy phones…yet.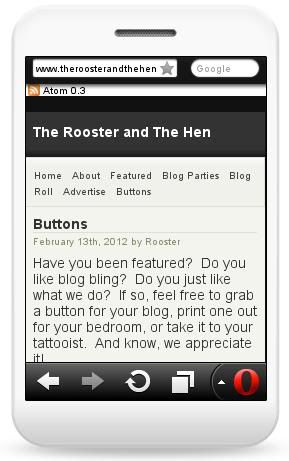 The Rambling
And last but not least we've added a few new items to make keeping in touch a snap.  There's a new "buttons" tab so grabbing a "The Rooster and The Hen" button will be easy and we have a variety to choose from.  Also, if you haven't noticed, we've added the new Linky Followers tool so that you'll have another option for following us once GFC bites the dust. Leave us a comment if you'd like us to follow you back, it'd be our pleasure.
Click here to follow this blog and view my other followers…
Please join us the 1st and 3rd Friday of each month for the
Repurpose-Remodel-Reveal
Linky Party!